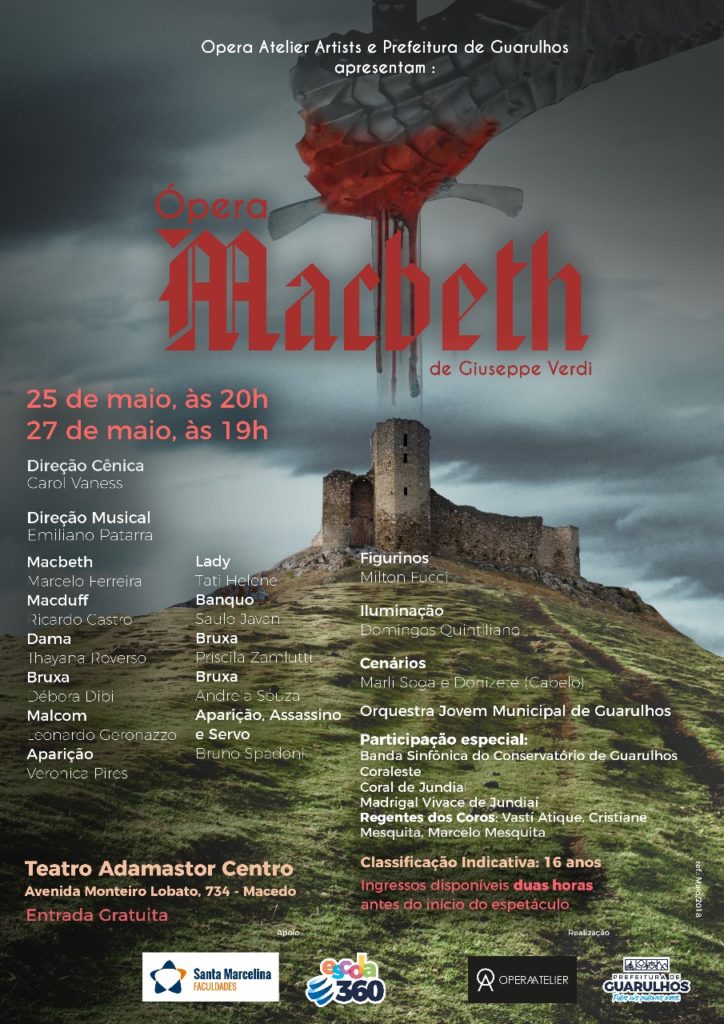 Macbeth debuts in Guarulhos today!
Macbeth by the Italian composer Giuseppe Verdi takes place at the stage of the Adamastor Theater in Guarulhos this Friday and Sunday, May 25 and 27, with musical direction by Emiliano Patarra and the stage direction by the American soprano Carol Vaness, who has sung on the world's leading stages and is now a teacher at the Opera Studio at Indiana University in the United States.
The production, which had the scenarios built by local craftsmen, counts on singers like Marcelo Ferreira, Tati Helene, Saulo Javan, Ricardo Castro, Thayana Roverso, Debora Dib and Priscila Zamlutti. In addition to the Young Municipal Orchestra of Guarulhos, the show has participation of the Coraleste and the Madrigal Vivace.
SERVICE
OPERA ATELIER ARTISTS and PREFEITURA DE GUARULHOS
Stage Director: Carol Vaness
Conductor : Emiliano Patarra
Macbeth – Marcello Ferreira
Lary Macbeth – Tati Helene
Atreghe – Andreia de Souza – Debora Dibi – Priscila Zamlutti
Malcom – Leonardo Geronazzo
Aparizioni, assassino e servo:
Bruno Spadoni – Verônica Pires
Lighthing – Domingos Quintiliano
Scenarios – Marli Soga e Donizete (Cabelo)
Orquestra Jovem Municipal de Guarulhos
Madrigal Vivace de Jundiaí
Chorus Conductors: Vasti Atique, Cristiane Mesquita, Marcelo Mesquita.
AV MONTEIRO LOBADO, 734 – MACEDO