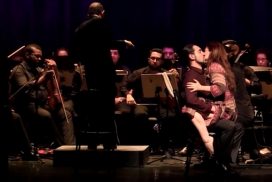 Helene will be Nedda at Adamastor Theatre
On the 24th of September in only one presentation, there will be the premiere of Leoncavallo's Pagliacci at Adamastor Theater in Guarulhos.
The opera marks another partnership between the Municipal Youth Orchestra of Guarulhos and Opera Atelier.
The cast includes singers of great prominence on the Brazilian lyrical scene. The protagonist will be performed by tenor Jean Nardoto, which have conquered the critics in 2014 with his Duke of Mantua from Rigoletto at the Palace of Arts in Belo Horizonte. Tati Helene, spinto soprano, will give life to Nedda, showing once again her versatile voice that moves from heavy and intense roles to those most lyrical and cantabile. The two baritones parts are in charge of experienced singers: Marcelo Ferreira will be Tonio and Vinicius Atique will be Silvio. Closing the soloists team, Eduardo Góes, singer from the Theatro Municipal Lyrical Choir, embodies Peppe.
The Youth Choir of São José dos Campos, conducted by maestro Sergio Wernec, joins the Youth Municipal Orchestra of Guarulhos for this production, this partnership will be repeated at the end of the year to the Second Symphony of Mahler.
The opera, under the baton of Maestro Emiliano Patarra, will be semi-staged and with Portuguese subtitles. Really a must!
SERVICE:
What?  – Leoncavallo's Pagliacci
How much? – Free
Where? – Adamastor Theater- Avenida Monteiro Lobato, 734, Guarulhos
When? – 24th September at 8:30pm
 **Duration:  1 hour